A Quick Guide To Fixing Leaking Toilets
4/6/2022 (Permalink)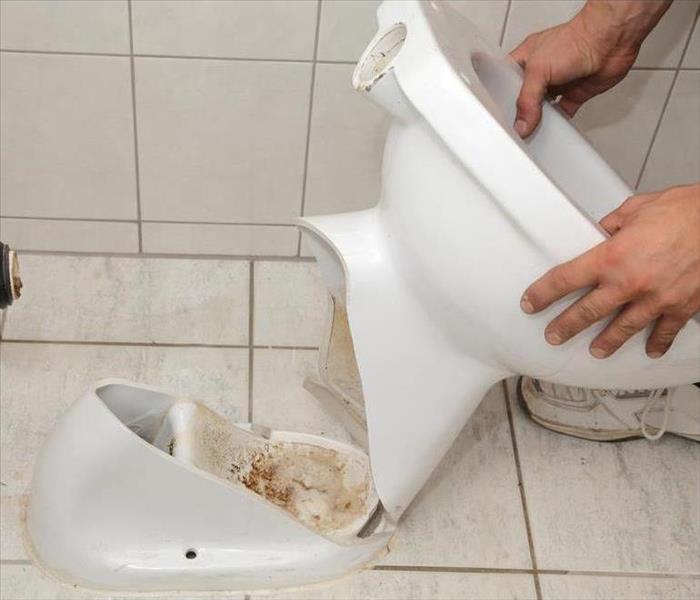 SERVPRO is highly trained and experienced in water damage cleanup and restoration and we are always here to help, no matter the day or hour.
A Step-By-Step Guide To Repairing Leaking Toilets
If you experience a leaking toilet in your home, you can either fix the problem yourself or hire a plumber to handle the task for you. Whichever you choose, the matter needs to be rectified fast before sewage seeps out and ruins your floor, walls or cabinetry, thus requiring the rebuilding services of a water damage restoration expert. The following guide can help prevent this scenario from unfolding in your restroom.

Leaky Toilet Causes

A number of concerns are known triggers for bathroom leak disasters. Some of the most common include:
Worn out flappers

Loose base seals

Cracks in the tank or bowl

Rusty pipes
Those fearful of fixing a leaking toilet on their own must immediately seek professional assistance.

Leaky Toilet Fixes

If rusty pipes or a crack in the bowl or tank is not the cause of your leak, grab a wrench and use it to disconnect the shutoff valve from the supply tube. Drain the toilet before removing the caps that cover the closet bolts and taking off the hex nuts. Instead of grabbing your toilet by the tank, hold it firmly around the bowl as you carry it onto a sheet of cardboard or blanket you feel comfortable discarding.

Your following mission is to scrape off the old gasket from the closet flange. Once the screws securing it have been loosened, hook on the repair strap underneath. Next comes replacing the wax gasket, which has to be centered precisely on top of the flange.

Connect the water supply tube to the fill-valve shank located at the base of the tank. Compress the gasket by pressing down on the bowl. Repeat this action after replacing the bolts. With a hacksaw built for close-quarter usage, trim the bolts and then tighten them. After replacing the caps, you only need to reconnect the supply tube to the shutoff valve and then reopen it.

Whenever you discover a leaking toilet in Anaheim, CA, urgent attention becomes necessary. Hiring a plumber or closely following the preceding steps means you should have a properly functioning commode in no time.