Taking Care of Anaheim West Antique Glass, Crystal & Various Items
7/6/2016 (Permalink)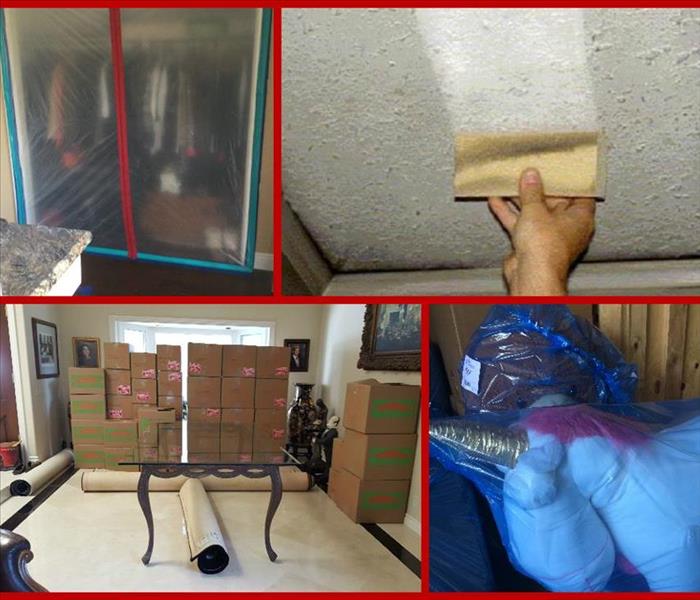 From saving clothing onsite, cleaning soot from ceilings/walls, to boxing up and sending pack precious items, we do it all.
When it comes to disaster, we at SERVPRO of Anaheim West understand and are all too familiar with the fact that fires don't just affect a person's physical home or place of business, but also the contents within it that are also tied to a person's emotional state of being. It is why when we are chosen to pack out, clean, restore and pack back items from a person's home or business, we take extra care of each and every item. We go the extra mile to pay attention to items such as antique glass or crystal. The reasoning behind this is that during a disaster, like a fire, the exposure of glasses and crystal to high heat can reduce the stability of the items to stay in form. Lifting an item without checking it for cracks or damages can cause further damage than the fire itself. Items such as the inherited family couch or your favorite t-shirt are cleaned according to the fabric involved and not just brushed aside with soap, water and Fabreeze. We use washing chemicals that are hypoallergenic, pet friendly, child and elderly safe and ensure that each item we send back to you is clean in both smells and stains.
When we arrive on a scene we take pictures of everything we see as we see it initially. From there, for contents, we take a photo inventory of where items are, where the items are being placed in certain marked boxes, and then we take them back to our warehouse for cleaning and restoration. When we do this, we do so at an even pace because there are times we must slow down in order to review individual items for cleaning. For example, a crystal or antique glasses that are lined with or involve gold will be placed aside and cleaned differently than some of the other items. Gold items are never cleaned with ammonia, due to the fact that it will ruin the item entirely. We've been known to restore dining room sets, original pieces of artwork and even cleaned and stored grand pianos while the home or place of business was in the process of getting back to "Like it never even happened" status.
Even though there are a variety of ways to assist in packing out and packing back contents for a person's home or place of business, we at SERVPRO of Costa Mesa like to be on the safe, healthy and cautious side for all your items. We understand that sometimes the value of an item isn't the money it cost, but the sentiment tied to it that makes it priceless. Beyond items we also offer a variety of cleaning services you can view here. We hope that for any future contents needs, you consider SERVPRO of Anaheim West. If you have questions feel free to give us a call at 949-533-1989 or online here.